Welcome to California PAL
California PAL depends on your support to help
reduce youth related crime in your communities.
Please help us achieve this goal.
SUPPORT CALPAL TODAY!
More than any other program our "California PAL Youth Leadership Academy" needs your support now. This important youth program will be taking place in Spring 2015 and it gives kids a chance to learn leadership skills they can use their entire lives. Only $450 sponsors a youth . . . a bargain when you consider similar programs that cost over four times times as much. Anything you can do will be much appreciated. Every contribution is significant in helping us achieve our goal to give these skills to underserved youth.
California PAL 2014 Fall Training Conference
Over 40 PAL Chapters attend Fall Business Conference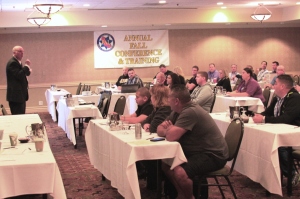 The Lake Tahoe Resort Hotel in beautiful South Lake Tahoe provided the setting for the 2014 California PAL Fall Conference & Business Meeting held November 9 – 12. Over 40 PAL chapters along with California PAL Staff, Special Guest Speakers and vendors attended the four-day training.
Attendees were able to receive valuable training with a variety of classes that included a specialized PAL New Directors Training course along with training sessions on Grant Writing, Youth Leadership programs, Junior Cadets, S.H.O.C.K. program and a variety of other very important topics that would benefit our member chapters be more effective in reducing juvenile crime. The class sessions were very successful and a number of participants would follow up and seek more information about many of the subjects being taught.
"The PAL directors really seemed to get a lot of great information this year," said Gregg Wilson, executive director. "California PAL has really made an effort to provide the types of training that benefit our membership and I think that our training conference has become one of the most effective in the country."
Participants were also provided with specialized vendor presentations from the United States Tennis Association - NORCAL, SCORE Sports, nFocus, Mestmaker Insurance, Solar City and Helm & Sons Special Events. The organization, Get Involved, who is partnering with California PAL to increase business marketing and corporate sponsorships also presented their initiatives to the PAL chapters..

"This conference was great!" said Rosalina Munoz of Compton YAL. "Material handed out was wonderful. I have a lot of information to take back to my organization. Now I have lots of work to do."
Upcoming Events:
2015 California PAL Regional Meetings
Coming this early February 2015, California PAL will be holding our annual Regional Meetings for all California PAL Member Chapters to attend. As with our previous meetings, we will be discussing the latest topics pertaining to our youth programs scheduled for 2015 along with sharing new information and allowing PAL directors to network with their fellow regional directors.
We are currently finalizing meeting locations, dates and times and will be posting that information as soon as it is ready to go! If you have any questions about the regional meetings, please contact us here at California PAL.
PAL's influence on youth is indescribable. Seeing the amazing impact PAL has on children is priceless.
Det. Charles Ellis - Founder of California PAL